Products
Your location:Products
Formula: C7H12N2O4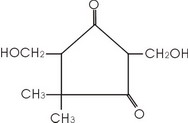 CAS No.: 6440-58-0
Molecular Weight: 188.2
Characteristic:
Colorless to light yellow transparent liquid with light aldehyde odor, freezing point is -11 ,dissoluble in water and alcohol,the hot endurance is good.
Specifications:
Type One: White powder active 99%
Type Two: White powder active 95%
Type Three: 50% solution colorless and clear, litmusless
Applications: A ripeness highly effective antibacterial aseptic, good compatibility
withemulsifiesurfactant,stable in wide PH range and temp.range, low toxic chemicals.
It can be used in cosmetic, the max concentration is 0.6%。
Packing: In plastic barrel, 20Kg net each or by customer's requirement.
Transportation: Carefully handling, prevent from solarization and drench. It can
transport as common chemicals but cannot be mixed with other poisonous
stuff.
Storage: Keep in cool and dry, avoid putting together with injurant for fear of
Pollution. Validity for about two years.